From February 7 to 11, Scale AI will lead a delegation of 12 Canadian companies and organizations to promote our national AI ecosystem and our achievements in Paris and in Cannes during the World AI Cannes Festival.
First stop: Paris 📌
On the agenda:
A series of meetings with various players in the French AI ecosystem, organized by Global Affairs Canada at the Canadian Embassy in France in Paris, including with the firm Fidal and the regional development agency Choose Paris Region.
A visit of the SCAI (Sorbonne Center for Artificial Intelligence) which gathers more than 100 researchers and more than 20 industrial partners.
A presentation of Scale AI and panels with our Canadian organizations as part of the Paris Machine Learning Meetup, gathering a community of professionals, researchers, academics and AI enthusiasts in France.
Second stop: The Festival de Cannes World AI on February 9, 10 and 11 at the Palais des festivals et congrès de Cannes 📌
Scale AI will be on site to:
Lead the Canadian Pavilion (space A23) along with the national delegation: Optel Group, Vooban, Videns, Moov AI, LexRock AI, IVADO Labs, FoxFireLabs, Airudi, CEIMIA, QScale and Tenstorrent
Join Global Affairs Canada's for a "Why Canada continues to attract talent and capital?" workshop with participants ISED, Julien Billot (Scale AI) and Louis Roy (Optel Group)
Shine a light on Canada's AI ecosystem in a panel moderated by our CEO Julien Billot with our delegate organizations
About the World AI Cannes Festival (WAICF)
The 
World AI Cannes Festival
 will bring together those who are currently building the most game-changing AI strategies and use-cases on the planet, 
to an unparalleled experience in the vibrant future of AI.
With hundreds of exceptional talks, showcases, performances, and networking happenings, this 2nd edition will be without any doubt the 
#1 marketplace dedicated to AI where you need to be seen
.
The 100 most influential Industry leaders and AI innovators of the globe will share visionary solutions, concrete insights, and tangible advice to help you create a more purposeful AI world and scale your business and strategy to the next level.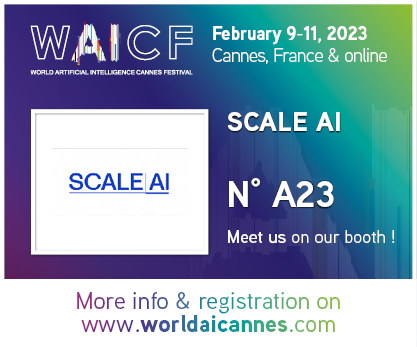 Location
Palais des festivals and Congrès de Cannes
1, boulevard de la croisette 06400 Cannes, France
Date
February 7-11, 2023